Bald Hills Wind Farm Community Fund Invites Expressions of Interest for its 2022 District Grant
The Bald Hills Windfarm Community Fund is inviting community organisations in the Tarwin Lower, Walkerville and Venus Bay district to submit applications for its 2022 Small Project Grants program.
Up to $2000 is available for each eligible project, which must provide a benefit or service to the local community. Multiple applications are allowed, provided each project is 'stand alone'.
Last year, the Fund distributed $23,000 amongst the Tarwin District Auto & Machinery Club, Tarwin Lower Pony Club, Tarwin Lower & District Community Health Centre, Venus Bay & District Community Emergency Response Team, Venus Bay Community Centre, Watch for Wildlife and the Bass Coast & South Gippsy Wildlife Rescue and Shelter. Projects included the purchase of sporting, training and medical emergency equipment, signage to project wildlife and construction of an aviary to rehabilitate injured birds.
Any community organisation operating in the Tarwin Lower, Venus Bay and Walkerville district can apply for a Small Project Grant. Application forms and grant criteria are available on the Bald Hills Wild Farm website (www.baldhillswindfarm.com.au). Application forms must be received by 5pm on Friday, 13 May 2022.
Bald Hills Wind Farm is proud to be a sponsor of the Lions Club Ride for Sight 2020
Planning Permit TRA/03/002 Amendment Application
Bald Hills Wind Farm Community Fund Invites Applications for its 2020 Grant
The Bald Hills Wind Farm Community Fund (BHWFCF) is inviting community projects benefiting the Tarwin Lower, Venus Bay and Walkerville districts to apply for its 2020 Grant.
The sole $25,000 grant is an exciting opportunity for local organisations to develop a significant project for their community.
"We are hoping that a grant of this size will encourage clubs and other organisations to collaborate and design a more ambitious project than they could have contemplated on their own," explains the chair of the BHWFCF committee, Jan Martin. "It will also give the successful applicant leverage to obtain additional funds and support from other sources, such as local, state or federal government or philanthropic organisations. A collaborative approach with partners will be key to the success of any application."
To help applicants avoid unnecessary paperwork, the Committee has divided the application process into two parts. Stage One requires applicants to submit a brief Expression of Interest outlining their project before 7 February 2020, and to meet with the Committee to discuss their proposal. Only those applicants whose projects satisfy the grant criteria will progress to Stage Two, which involves submitting a detailed Application Form before the closing date of 15 May 2020.
Since the fund was established in 2015, BHWF has contributed more than $125k benefitting more than 16 local community groups including sports clubs, arts and environmental groups, health and education.
Previous grants have funded upgrades to infrastructure at the Tarwin Recreational Reserve, Mechanics Hall, and Men's Shed; mobility equipment for the Tarwin Lower and District Community Health Centre; IT resources and infrastructure improvements for the Tarwin Lower Primary School; arts projects such as the Venus Bay Water Tank Mural project and the Thirsty Works Gallery; and assistance to the Tarwin Wildlife Shelter, Watch for Wildlife and Community Bee Keeping.
The grant criteria, Expression of Interest information and Application form are all available here.
Community Bee Keeping Workshops Underway
Blessings of the Bees, Venus Bay Honey, presents Community Bee Keeping at Tarwin Lower Community Health Centre.
Thank you to Bald Hills Wind farm's grant we were able to buy all the equipment for the Community Bees Keeping project. Thank you to Tarwin Lower Community Health Centre for supporting and hosting the project! This is where the workshops are taking place and our bees are housed.
Over the summer, apiarist Amanda Diamond will run a four part Community Bee Keeping course, the first of its kind in Gippsland. It is kept to a minimal cost and everyone is welcome to come along for one or all workshops.
Prior to the workshops Amanda has been working with the Venus Bay Mens' Shed to build hive components, and to commission a glass viewing hive which will be great for future public displays, such as in local schools and farmers markets, and for our use in the workshops.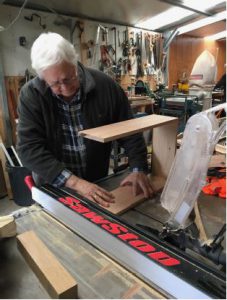 In Workshop #1 Build a hive, everyone was very busy and completely built from scratch a hive in record time!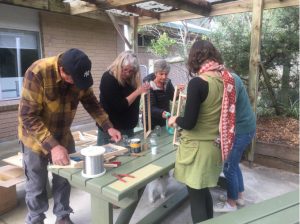 In Workshop#2 All About Bees, we learned about bees and then opened our two hives and everyone handled the bees and observed what we had learned.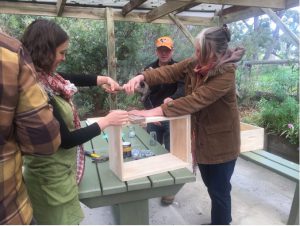 Bald Hills Wind Farm Community Fund 2019 Grant Recipients
District Grant – Tarwin District Auto Festival
The $5,000 district grant was awarded to the Venus Bay, Tarwin Lower & District Men's Shed to support the Tarwin District Auto Festival.  The Tarwin District Auto Festival will be held on Sunday 3 November, 2019 (Melbourne Cup weekend) at the Tarwin Recreational Reserve, Walkerville Road. For more information about the Auto Festival, please click here or contact Michael Gardner at stude1@live.com
Small Grant Awards
The following organisations were successful in their applications for a Small Grant (being $2,000 or under):
Tarwin Wildlife Shelter (auspiced by the Walkerville Ratepayers and Residents Inc) for infrastructure maintenance at the Shelter;
Thirsty Works Gallery for Community Art Materials to purchase materials to support art and printmaking classes;
Tarwin Lower Primary School to purchase and install two new flag poles adjacent to the existing flagpole to enable the school to display the Australian, Aboriginal and Torres Straight Island flags side by side. The funding will also allow for landscaping, which will contain Australian native plants.  The flag poles will enhance cultural awareness and support the Respectful Relationships initiative.
Friends of Venus Bay to support the Tarwin Wildlife and Habitat Expo 2020, to be held on Australia Day weekend (25-26 January 2020) at the Tarwin Lower Mechanics Hall. The Expo will share knowledge and ideas for environmental awareness and proceeds from the Expo will be used to support local wildlife shelters.  More information on the Expo can be found at http://www.friendsofvenusbaypeninsula.org.au, or contact Debbie Birkett, Friends of Venus Bay Peninsula management committee at debbiebirkett55@gmail.com
Amanda King (auspiced by the Tarwin Lower & District Community Health Centre Inc) for the Hive 2 Honey Community BEE Keeping Project. The funding will provide Bee hive boxes, including a glass viewing hive box that can be taken to schools and community groups, and safety equipment for workshops and demonstrations.
Watch for Wildlife (auspiced by the Walkerville Ratepayers and Residents Inc) to construct A-frame and durable signs to engage and educate residents and visitors about the presence of wildlife on the roads between Venus Bay, Tarwin Lower and Walkerville. The aim is to have zero native animal road deaths in the area.
Venus Bay Surf Lifesaving Club for an upgrade to its website, which will make it easier for the Club's 540 members, and the general public, to get updates on weather conditions and beach hazards. The new website will advertise events, activities, programs & fundraising and will have a member portal, online store, calendar and news.
Grants Only Group to purchase a laptop for the group so they have additional resources to submit grants on behalf of local organisations.
Tarwin Lower Mechanics Institute to purchase a projector for the hall, which will make the hall more attractive to hirers and will enable the hall to provide movies for the local community and visitors.
Venus Bay Community Centre for the Venus Bay Water Tank Mural Project, which will see murals featuring Australian Birds native to Venus Bay painted on the water tanks located near Jupiter Park, Venus Bay. The Bald Hills Wind Farm grant will fund the design, materials and construction of four information signs for the Water Tank Mural Project.  The interpretive signs will provide information on each of the featured birds.  A QR code will be included on the signs to enable viewers to to access more information relating to the wildlife of the district.